Abstract
In video games, films and books we depict feminist warfighters as sexy, inspirational superheroes. When it comes to real life, there's a universal moral dilemma with women fighting in combat roles. This editorial explores the importance and implications of female leaders in today's armed forces.
---
Introduction
Throughout the past six years I have served in the U.S. Air Force and experienced many different types of management styles – from toxic and threatening to inspiring and transforming. As I've become a supervisor myself, I have to admit – it's difficult to define what leadership should look like. As an empath, I put great emphasis on compassion and forgiveness. But that can also mean my ideas are discarded and my voice silenced because my punch comes from high performance, not a loud roar. As a young woman in a position of authority in a male-dominated organization, do I tailor my techniques to synch with the current system and keep my head down? Or do I focus my energy on finding a method of collaboration that allows diverse backgrounds an equitable opportunity to speak? The frustration and friction is exhausting – but I'm not the first, or last, to experience it.
---
Original Fly Girls
"If it means interfering in an ensconced, outdated system, to help just one woman, man or child… I'm willing to accept the consequences." • Wonder Woman
Men dominated the aviation industry until World War II. Females were trained to become pilots for the first time in American history during the 1940s when majority of military men were called for combat duty. Solely volunteer based, 1,100 members joined the Women's Airforce Service Pilots, or WASP program. "They ferried new planes long distances from factories to military bases and departure points across the country. They tested newly overhauled planes. And they towed targets to give ground and air gunners training shooting — with live ammunition," Stamberg (2010).
Unlike their counterparts, women had to obtain flight licenses before applying for WASP admission where males could fully enlist with a high school diploma. Despite the critics, women made a lasting impression on the commanding general of the U.S. Army Air Forces, Henry 'Hap' Arnold. "When the program started, I wasn't sure whether a slip of a girl could fight the controls of a B-17 in heavy weather. Now in 1944, it is on the record that women can fly as well as men," Stamberg (2010).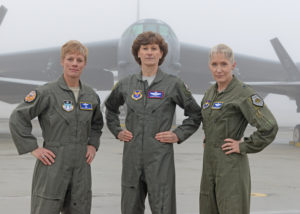 ---
Modern Military Women
Steve Trevor • "This war is a great big mess and there's not a whole lot you can do about that. We can get back to London and get them men who can." Wonder Woman • "I am the man who can."
Women chose to fly in an era of aviation where a return flight was more gamble than guarantee and today account for 34% of the workforce in the Department of Defense. So why is it still taboo for women to choose the military as a career? Can their gender impact leadership abilities downrange?
One important variable for consideration is the amount of exposure each has to violence. Women were institutionally barred from historical representation, despite their involvement as espionage, intelligence and diplomats during times of conflict. "In the 1950s, women were expected to stay at home, and those who wanted to work were often stigmatized. Their daily chores of cleaning, cooking or raising their children were ignored by national accounts," Bennhold (2010). In other words, a man who marries his housekeeper stops paying for her work. Although we have advanced, today's social climate is still not in the all-clear. Women are often taught to stack against one another in regards to economic class, occupation, ethnic, religious and cultural backgrounds.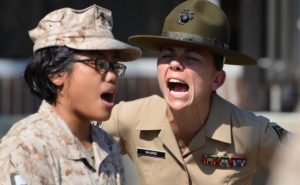 ---
Primal Paradox
"Fighting doesn't make you a hero. If loss makes you doubt your belief in justice, then you never truly believed in justice at all." • Wonder Woman
On the other hand, men were traditionally personified as aggressive, primal warriors in the prevalence of combat and taught to abandon their domestic tendencies for survival. "Males are expected to be – and rewarded for being – competent and tough, females who display the same traits are accused of being aggressive," Roberts (2019). This is what I refer to as primal paradox.
Although it may seem easy to connect full responsibility of these issues to men, that would not be accurate. Research shows part of the problem is also women undervaluing themselves. "When we compare confidence ratings for men and women, we see a large difference in those under 25. It's highly probable women are far more competent than they think they are, while male leaders are overconfident and assuming they are more competent than they are. At age 40, the confidence ratings merge. As people age their confidence generally increases; surprisingly, over the age of 60 we see male confidence decline, while female confidence increases," Folkman (2019). This may also be linked to the male suicide rate being 3.54x more frequent than females in the U.S. AFSP (2019).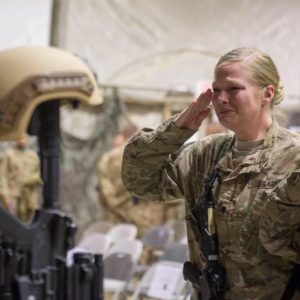 ---
Empathy and Equity
"Don't kill if you can wound, don't wound if you can subdue, don't subdue if you can pacify and don't raise your hand at all until you've first extended it." • Wonder Woman
There are critical takeaways in gaining clearer perspective on the importance of diversity. Without a voice at the table, women are unable to share their evolution and intricate perplexities of coexisting where men have traditionally found paths to conflict. "It's possible this could inspire women to take more initiative, be more resilient and be more receptive to feedback from others, which in turn makes them more effective leaders in the long run," Folkman (2019). Harvard Business Review found women outscored men on 17 / 19 capabilities that distinguish leadership excellence with superior skillsets in self-development, taking initiative, drive for results and high integrity. Without being comfortable accepting a woman's passion, drive and empathy as a leader – you cannot fully understand the wisdom gained from her struggles that influence performance and motivation.
Another important notion is differentiating equality from equity, and understanding both are essential tools for leaders to promote fairness. Equity is giving everyone what they need to be successful. Equality is treating everyone the same. For example, the U.S. Army Ranger Physical Assessment Test for combat arms has gender-neutral standards, showcasing equality. Thirty-five women have achieved the coveted Ranger tab since 2018 and to obtain a passing score, their training routines differed from male peers. This is an example of equity, helping each member in the unit with their unique situation and providing the tools needed to promote growth and progression.
Breaking Barriers
Despite the policies, roadblocks and people who stood in their way – the following heroes made strides in paving the way for societal change and showcase the power of women in the military: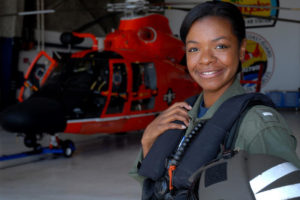 ---
Lt. La'Shanda Holmes became the first black female helicopter pilot in the U.S. Coast Guard and went on to work as a special assistant to the administrator of NASA in a fellowship program.
"People may have expectations, but it's about knowing I have something to prove [as a pilot]. I want to keep flying well and working hard to make my community, family and sisters proud." • Lt. Holmes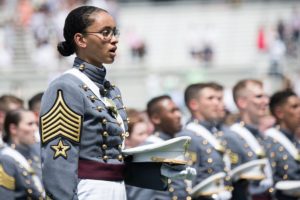 ---
2nd Lt. Simone Askew was a U.S. Army cadet named Rhodes Scholar at West Point, NY and is the first black woman to earn the role of First Captain, leader of the Corps of Cadets.
"When the Commandant of the Corps of Cadets told me I had been selected, the first thing he said was people will say this is about your race and gender, whether they're celebrating you or trying to bring you down, but that is not the reason you were selected. While it's great to see headlines of me being the first, I wasn't chosen to be the first. I was chosen to be the First Captain." • 2nd Lt. Askew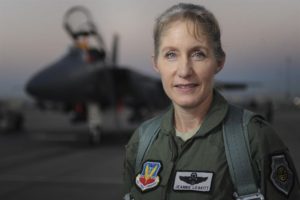 ---
Maj. Gen. Jeannie Leavitt is the first U.S. Air Force female fighter pilot and the first woman to command a U.S. Air Force combat fighter wing (Seymour Johnson Air Force Base, NC).
"Being the first female fighter pilot, there was a lot of attention and the attention wasn't what I wanted. I just wanted to fly fighters. But it was a significant change in policy and it was something very new and different. I tried to always keep a very gender-neutral mindset." • Maj. Gen. Leavitt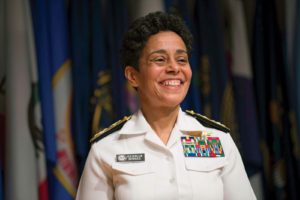 ---
Admiral Michelle J. Howard was the first female four-star admiral in the U.S. Navy and the armed forces' first black woman to achieve four stars in the history of the Department of Defense.
"By taking the time to educate ourselves on our history and the people who shaped this nation, we can more fully appreciate the ideals set down by the founders. It's a reminder that our work is to sustain freedom and ensure the rights and liberty belong to all our citizens." • Admiral Howard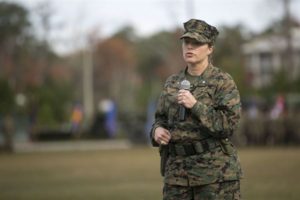 ---
Lt. Col. Lauren Edwards is the first female U.S. Marine Engineer Battalion Commander and led 150 Marines after an invasion in Iraq – earning the Commendation Medal with a Combat "V" for valor.
"My charge now is to serve as a positive example of leadership and professionalism to men and women alike," Edwards said during the change of command ceremony. "I'm extraordinarily proud to take command of 8th ESB today, and I hope that all in this battalion recognize that if they work hard and look out for each other they can accomplish whatever they set their minds to." • Lt. Col. Edwards

---
Conclusion
"I used to want to end war and bring peace to mankind; but then I glimpsed the darkness that lives within their light. I learned that inside every one of them there will always be both. The choice each must make for themselves – something no hero will ever defeat." • Wonder Woman
As I serve in the midst of these women – I want to help others and move past hurt and hopelessness. I want my team to know I come from intention of understanding, generosity and compassion in every action. I want communication to be the bond that connects us and collaboration our momentum. If leaders from all backgrounds, races and genders can be more accountable, available and approachable we will leave behind nothing but a new legacy of unity.
Posted on 18 October 2019 • by Cambria Lynn Ferguson
---

Citations
• AFSP. (2019, April 16). Suicide Statistics. Retrieved from https://afsp.org/about-suicide/suicide-statistics
• Bennhold, K. (2010, July 20). The Stigma of Being a Housewife. Retrieved from https://www.nytimes.com/2010/07/21/world/europe/21iht-LETTER
• Folkman, J. Z. J. (2019, September 23). Research: Women Score Higher Than Men in Most Leadership Skills. Retrieved from https://hbr.org/2019/06/research-women-score-higher-than-men-in-most-leadership-skills
• Roberts, S. (2019, March 4). The paradox facing women leaders. Retrieved from https://www.trainingjournal.com/articles/opinion/paradox-facing-women-leaders
• Stamberg, S. (2010, March 9). Female WWII Pilots: The Original Fly Girls. Retrieved from https://www.npr.org/2010/03/09/123773525/female-wwii-pilots-the-original-fly-girls
• Sun, A. (2014, September 25). Equality Is Not Enough: What the Classroom Has Taught Me About Justice. Retrieved from https://everydayfeminism.com/2014/09/equality-is-not-enough